2021 U.S. Energy and Climate Policy Update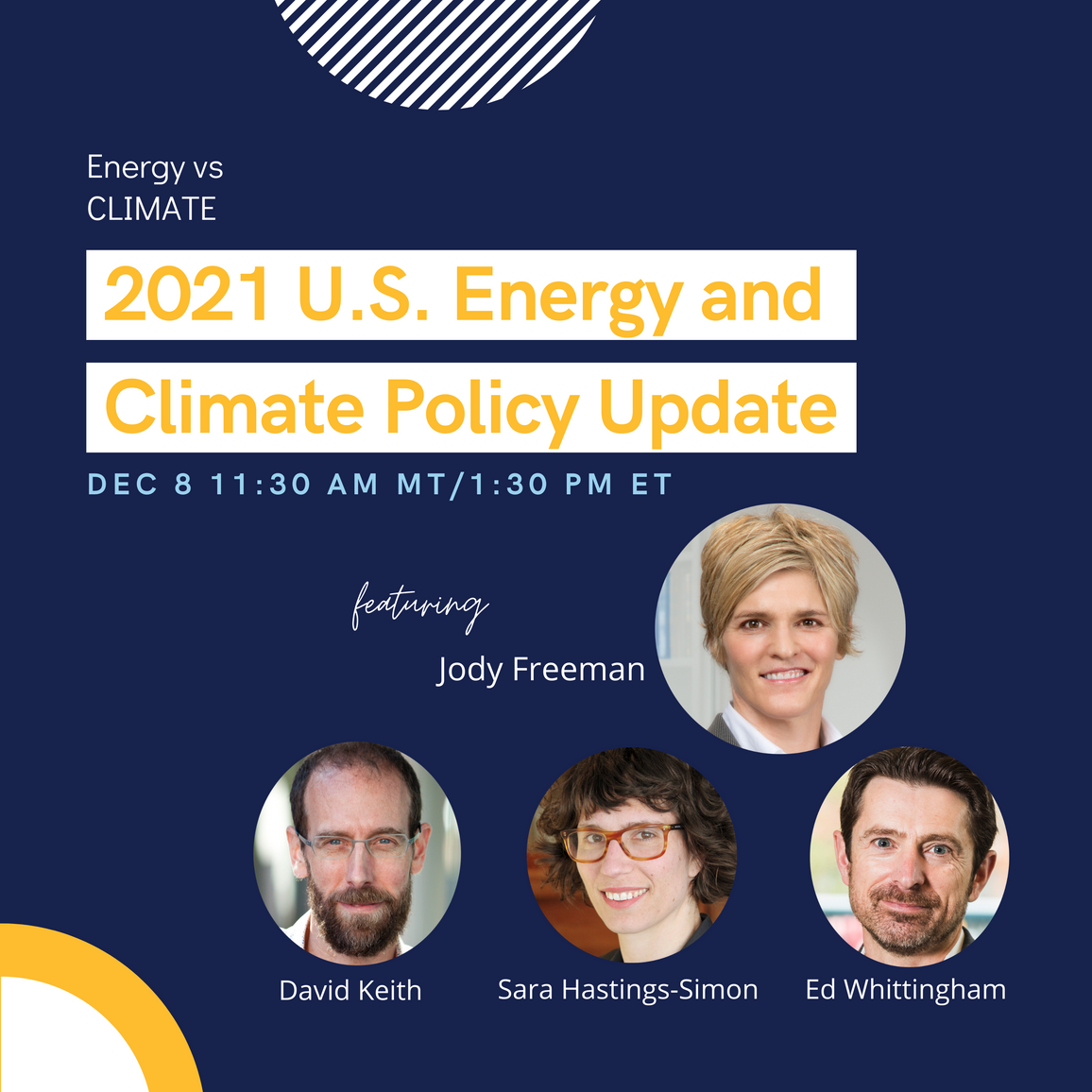 It's been 10 months since the Biden administration took over the White House, one month since President Biden spoke at COP 26 in Glasgow, and two weeks since he signed a $1.2 trillion infrastructure bill into law that includes billions for decarbonization projects. What's going on under the hood? What are the prospects for deep emission cuts? What might happen after next year's midterm elections?
On Episode 26 of Energy vs Climate, David, Sara, Ed, and special guest Professor Jody Freeman of Harvard Law School break down the answers to those questions, and what it all means for Canadian energy and climate policy.
---
EPISODE NOTES
@1:32 Jody Freeman Archibald Cox Profess of Law Twitter: @JodyFreemanHLS
@2:06 Obama Administration Finalizes Historic 54.5 MPB Fuel Efficiency Standards
@2:46 Top-emitting Alberta oilsands site got government relief from pollution payments, Reuters reports
@6:47 Reframing incentives for climate policy
@13:06 Biden Announces Steps to Drive American Leadership Forward on Clean Cars and Truck
@13:29 U.S Methane Emissions Reduction Action Plan
@13:58 EPA power plant rules could be part of bigger initiative
@14:27  Joe Biden wants America to lead the world against the climate crisis. That goal faces a big test this week.
@14:57 Clean Electricity: A Net-Zero Grid By 2035
@21:02 Trump's Lasting Legacy: Conservative Supermajority on the Supreme Court
@22:35 Without drastic changes, Democrats are on track to lose big in 2022
@23:13 Pressure on Fed to raise interest rates as US inflation surges to 30-year high
@25:29 As Biden Heads to Climate Talks, Supreme Court Move Could Stymie EPA Regulation
@28:27 Supreme Court of Canada upholds the constitutionality of federal carbon pricing legislation
@29:54 Summary of the Clean Air Act
@34:31 How we passed the clean power plan target a decade early
@36:14 Tesla Loan Program
@38:53 Renewable Portfolio Standards
@44:10 Section 45Q US tax credit encourages investment in carbon capture and storage
@47:52 The board of directors of ConocoPhillips
@49:09 How the 'Culture War' could break democracy
@55:42 O'Toole would cut emissions to meet target set by Harper, rejects Liberals' new, more aggressive goal
@57:15 Canada's output-based pricing system
---
About your co-hosts:
Jody Freeman is the Archibald Cox Professor of Law, and a leading scholar of administrative law and environmental law at Harvard Law School. She is a member of the American Academy of Arts and Sciences, a Fellow of the American College of Environmental Lawyers, and a member of the Council on Foreign Relations. Freeman served as Counselor for Energy and Climate Change in the Obama White House in 2009-2010.
David Keith is a professor at Harvard in Engineering and the Kennedy School. He is the founder of Carbon Engineering and was formerly a professor at the University of Calgary. He splits his time between Canmore and Cambridge.
Sara Hastings-Simon studies energy transitions at the intersection of policy, business, and technology. She's a policy wonk, a physicist turned management consultant, and a professor at the University of Calgary and Director of the Master of Science in Sustainable Energy Development.
Ed Whittingham is a clean energy policy/finance consultant, fellow at the Public Policy Forum and a mentor with the Creative Destruction Lab. He is the former executive director of the Pembina Institute.
---