Careers in Low-Carbon Energy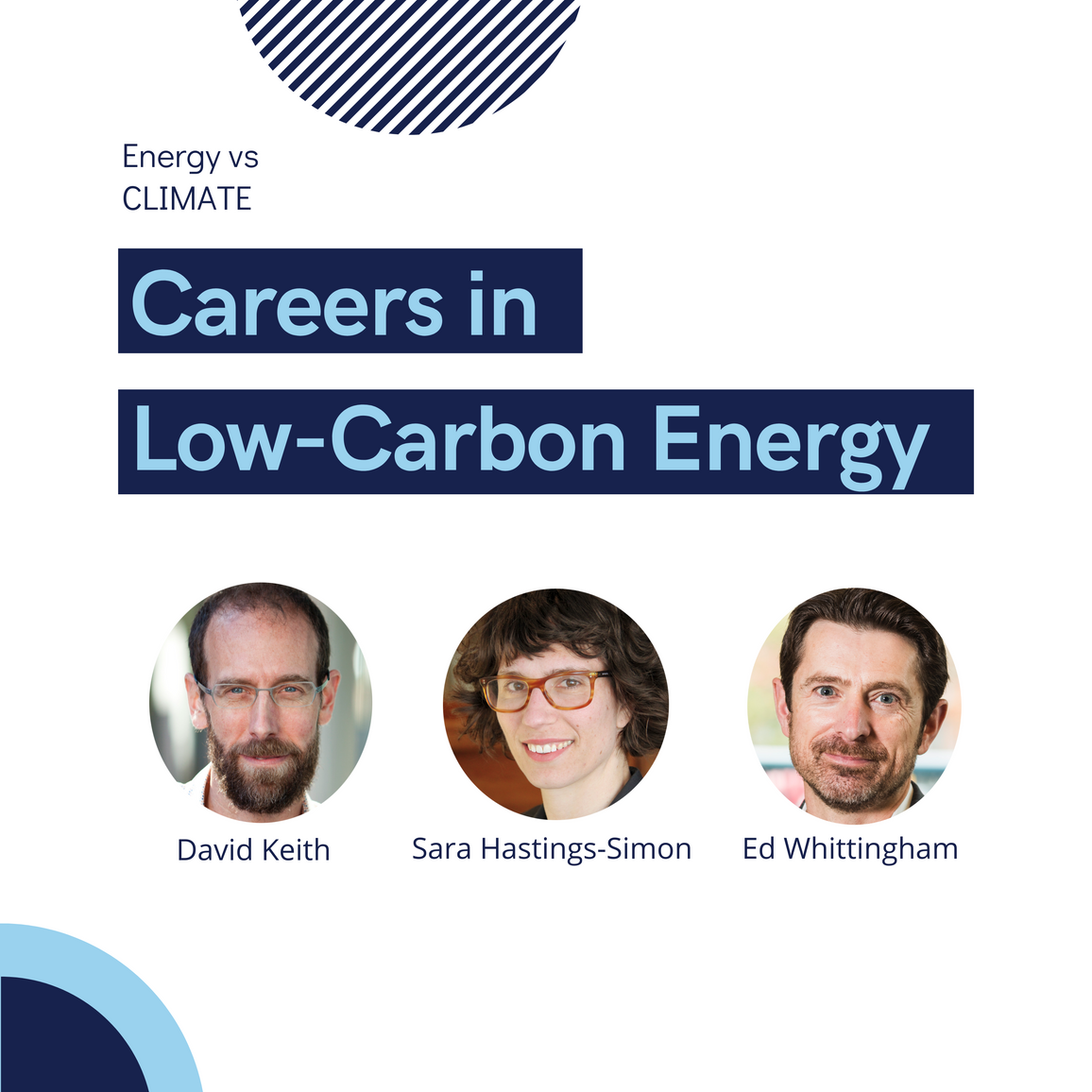 On Episode 25 of Energy vs Climate, David, Sara and Ed tackle a topic they often get questions about: how to get into the low-carbon energy field.
They share advice for people looking to start or transition their careers from a variety of professionals across sectors, and offer stories of their own paths to working in low-carbon energy.

**This episode was pre-recorded as a podcast without video and without a live audience.**
---
EPISODE NOTES
@2:00 Jeremy Barretto from Cassels Brock & Blackwell LLP  Twitter: @jeremybaretto
@4:18 Duncan Kenyon at Hilversum Sustainability Consulting
@5:53 Jackie Forrest, Executive Director at the Arc Energy Research Institute Twitter: @JackieForrest
@7:47 Dr. Sara Hastings-Simons move from McKinsey and Company to the Pembina Institute
@8:45 Mike Kelland CEO of Planetary Hydrogen  Twitter: @Mkelland
@10:30 – My Climate Journey, Work on Climate, Air Miners, Breakthrough Energy Fellows Program, Carbon 180 Fellowship Program
@13:25 Leap and Google Nest Launch Smart-Thermostat-to-Energy-Market Offering
@15:00 Janice Tran CEO for Kanin Energy Twitter: @janicetran
@ 16:15 Creative Destruction Lab
@18:43 Industrial Professor Tim Weis Twitter: @TimWeisAB
@23:20 Meredith Adler Executive Director of Student Energy Twitter: @Meredith_Adler
@24:30 Future Skills Council Report from the Government of Canada
@25:40 MSc in Sustainable Energy Development at the UofC Twitter: @UCalgarySEDV
@32:30 Measuring Temperature in Space: Airborne interferometer for atmospheric emission and solar absorption
@38:20  Dr. David Schindler Aquatic Scientist
@42:22 Dr. Jim Sandercock chair of the Alternative Energy Program at NAIT Twitter: @ALTEJim
@43:55 Julia-Marie Becker manager of sustainable business operations at RBC Twitter: @JuliaM_Becker
@45:00 Eric St Pierre Executive Director of the Trottier Family Foundation Twitter: @ESPESP
@46:45 Terri-Lynn Duque Director of Strategic Innovation with ENMAX power
@48:30 David Kelly Founder & CEO SkyFireEnergy
@49:44 Anna Stukas, VP Business Development at Carbon Engineering Twitter: @annastukas
@ 51:45 The Citizen's Guide to Climate Success by Mark Jaccard
@52:30 Dr. Julio Freedman CEO of Carbon Wrangling Twitter: @CarbonWrangler
---
About your co-hosts:
David Keith is a professor at Harvard in Engineering and the Kennedy School. He is the founder of Carbon Engineering and was formerly a professor at the University of Calgary. He splits his time between Canmore and Cambridge.
Sara Hastings-Simon studies energy transitions at the intersection of policy, business, and technology. She's a policy wonk, a physicist turned management consultant, and a professor at the University of Calgary and Director of the Master of Science in Sustainable Energy Development.
Ed Whittingham is a clean energy policy/finance consultant, fellow at the Public Policy Forum and a mentor with the Creative Destruction Lab. He is the former executive director of the Pembina Institute.