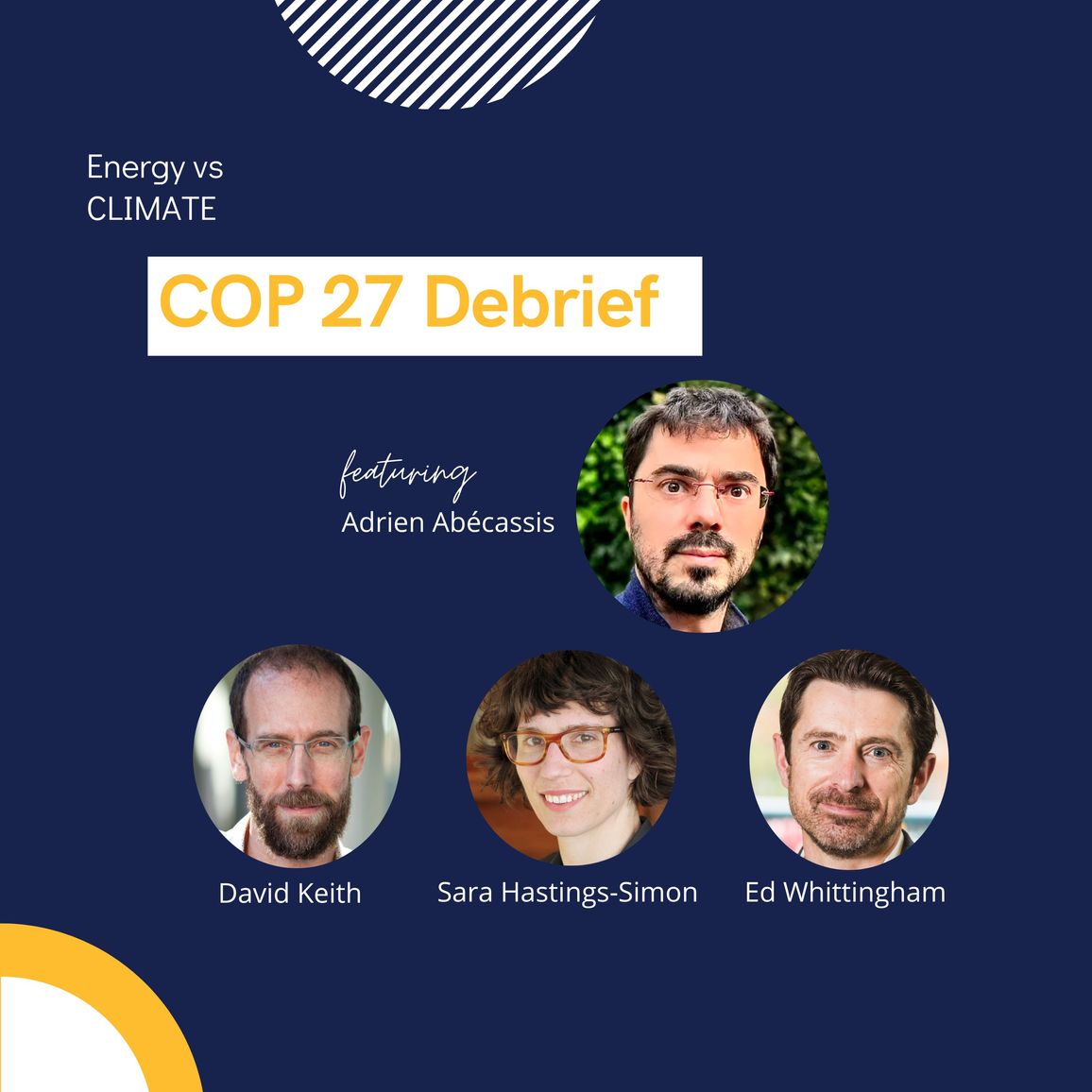 Expectations for COP 27 in Sharm el Sheikh, Egypt were pretty "meh." We didn't anticipate ambitious national plans to emerge, and they have not. EU ambition is hamstrung by its need to secure near-term energy sources for this winter and next. The usual bunch of sticking points remain: US-China tension, limited country-level implementation, and the ongoing failure to bridge a climate finance divide between advanced and developing countries.
Yet behind the headlines, important progress is still being made, and an interesting new player has emerged: The Climate Overshoot Commission. What went well at COP 27? What didn't go well? Why were expectations low - and were they exceeded in the end?
David (just back from Egypt), Sara, Ed and special guest Adrien Abécassis, Chief Policy Officer of the Paris Peace Forum and former Advisor to the French President (also just back) unpack COP 27 and what it means for Canada and the world going forward on Season 4, Episode 5 of Energy vs Climate.
---
EPISODE NOTES:
@1:31 Adrien Abécassis, former senior advisor to the French president, and the Chief Policy officer of the Paris Peace Forum
@7:55 Key outcomes of the COP27
@9:28 $750 billion a year into clean energy and energy transition
@12:00 Recap Paris Agreements had much bigger outcomes
@15:30 A fair transition for developing countries to meet global emission objectives
@24:20 Climate change impacts will affect GDP
@32:00 Canada's fossil fuel industry send delegates to COP27
@35:50 Climate Overshoot Commission
---
About your co-hosts:
Adrien Abécassis is a career diplomat, a former senior advisor to the French President, and currently the Chief Policy Officer of the Paris Peace Forum where he leads the team dedicated to incubating and running wide-ranging initiatives strengthening the governance of global commons. He has worked for 15 years in international policy, science and technology policy, and global governance. He was an Emmett Fellow in Environmental Law and Policy at UCLA and an International Affairs Fellow at Harvard University.
David Keith is a professor at Harvard in Engineering and the Kennedy School. He is the founder of Carbon Engineering and was formerly a professor at the University of Calgary. He splits his time between Canmore and Cambridge.
Sara Hastings-Simon studies energy transitions at the intersection of policy, business, and technology. She's a policy wonk, a physicist turned management consultant, and a professor at the University of Calgary and Director of the Master of Science in Sustainable Energy Development.
Ed Whittingham is a clean energy policy/finance consultant, fellow at the Public Policy Forum and a mentor with the Creative Destruction Lab. He is the former executive director of the Pembina Institute.‌