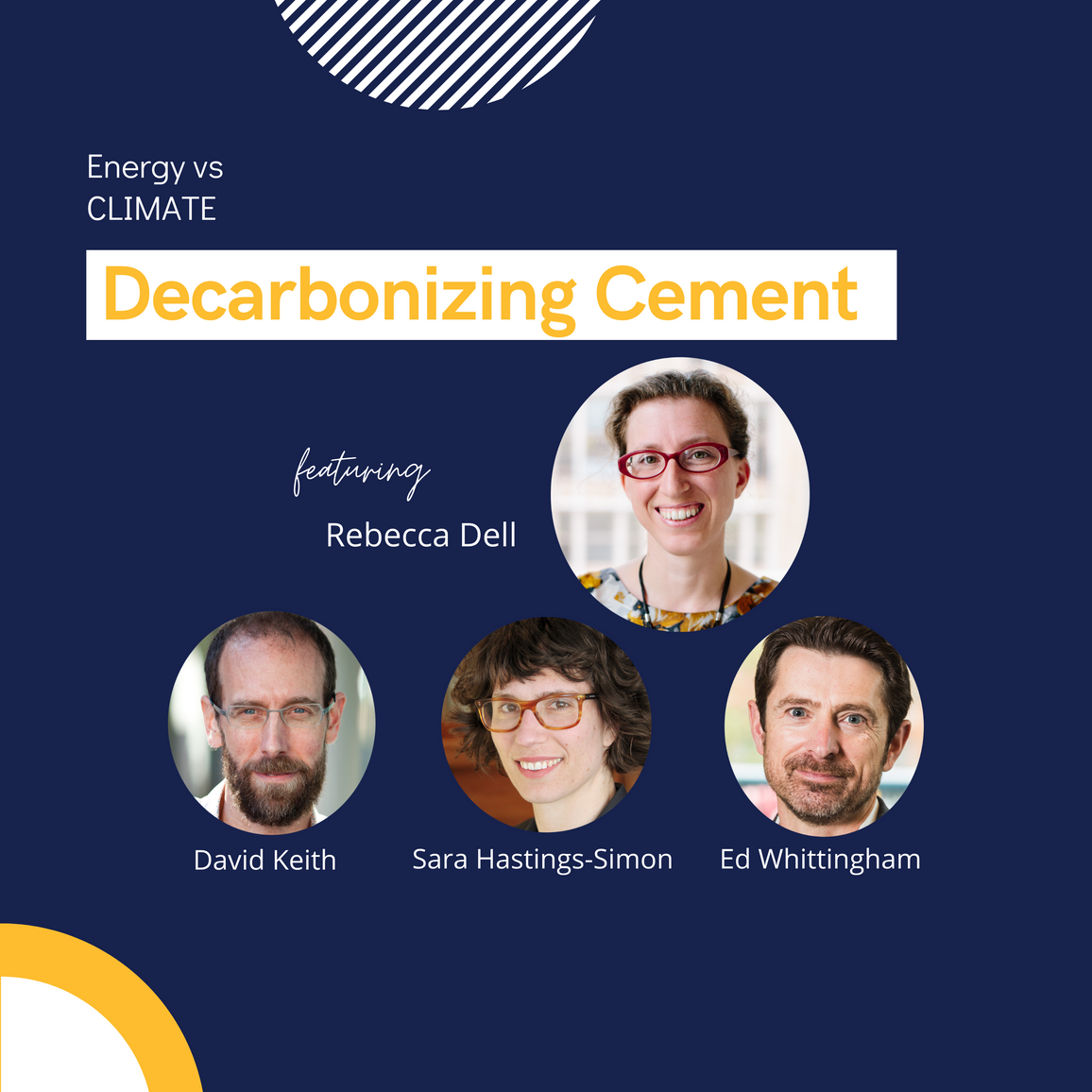 The cement and concrete industry is an essential part of the Canadian and global economies. Concrete, made from cement, is a material that is used in virtually every building construction and infrastructure project across the country and the world. It's also a major source of greenhouse gas emissions. Cement and concrete production account for roughly 7% of global emissions annually.
On Episode 32 of Energy vs Climate Ed, David, Sara and guest Dr. Rebecca Dell of the ClimateWorks Foundation examine the most promising technology and process solutions for decarbonizing cement and concrete. They discuss the key opportunities and challenges on the path to doing so, and debate what governments should do to encourage the industry to get on board.
---
EPISODE NOTES
@0:00 Register for EvC's Season Three Finale: Ask Us Anything Episode
@2:18 @rebeccawdell, ClimateWorks Foundation
@3:19 What's in Concrete: Illustration
@16:04 – California Ran on Nearly 100% Clean Energy This Month - BNN Bloomberg
@25:25 – LC3 – Limestone Calcined Clay Cement
@28:30 – Sustainable Building Materials - Geopolymer Concrete
@30:45 – CarbonCure's Sustainable Concrete Solution - Concrete Technology Reducing Carbon Impact
@31:21 – Solidia® – Sustainable cement manufacturing and concrete curing technologies
@33:10 – Oxygen loss in biosphere 2 - Severinghaus
@40:03 – The LEILAC Pilot Plant | Direct Separation Calcinating Technology
@42:14 – Investment Tax Credit for Carbon Capture, Utilization, and Storage - Canada.ca
@45:46 – Cement Sustainability Initiative (CSI) (WBCSD)
@50:12 – Lehigh Cement and Enbridge Agree to Advance a CO2 storage solution in Alberta
@51:10 – Liberal climate plan looks to guarantee a carbon price, no matter who is in power | CBC News
@1:03:00 – Low Carbon Fuel Standard | California Air Resources Board
@1:04:18 – Clean Fuel Standard - Canada.ca
@1:07:00 – Joint statement: Canada's Cement Industry and the Government of Canada announce a partnership
---
About your co-hosts:
Rebecca Dell leads the industry program for the ClimateWorks Foundation, the largest philanthropic program in the world dedicated to reducing and eliminating the one-third of greenhouse gas emissions that come from the material economy. Previously, she worked at the U.S. Department of Energy in the Obama Administration, where she coordinated implementation of President Obama's Climate Action Plan and was a lead analyst and author of the U.S. Quadrennial Energy Review. Before her federal service, Rebecca was a scientist at the Scripps Institution of Oceanography, studying the interaction between the ocean and land-based ice sheets like those in Greenland and Antarctica. She has a PhD in climate science from MIT and is a fellow of the Center for Global Energy Policy at Columbia University.
David Keith is a professor at Harvard in Engineering and the Kennedy School. He is the founder of Carbon Engineering and was formerly a professor at the University of Calgary. He splits his time between Canmore and Cambridge.
Sara Hastings-Simon studies energy transitions at the intersection of policy, business, and technology. She's a policy wonk, a physicist turned management consultant, and a professor at the University of Calgary and Director of the Master of Science in Sustainable Energy Development.
Ed Whittingham is a clean energy policy/finance consultant, fellow at the Public Policy Forum and a mentor with the Creative Destruction Lab. He is the former executive director of the Pembina Institute.