How the Climate Spent its Summer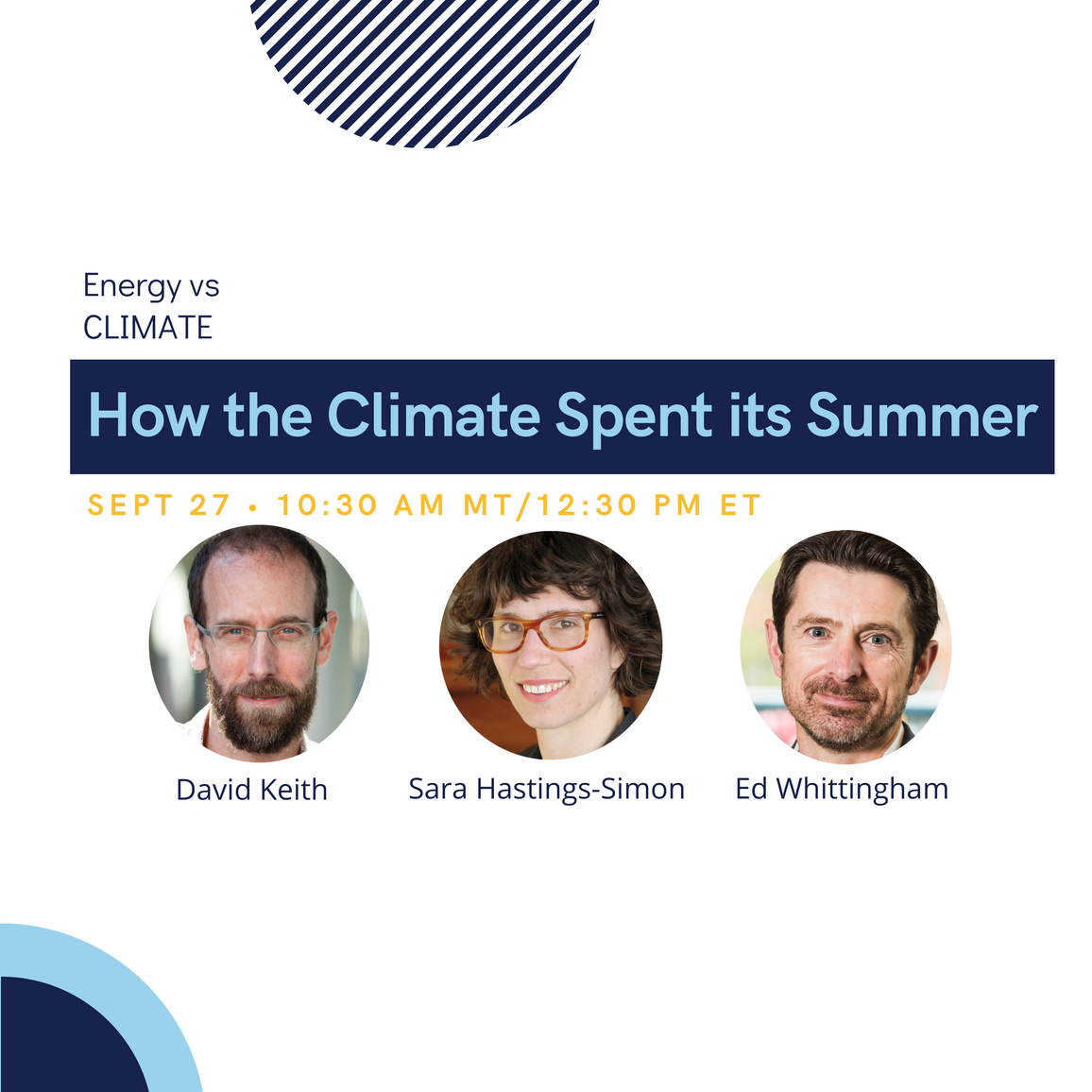 a) Causing heat domes and heat deaths.
b) Underscoring a bleak IPCC report.
c) Being a political football in a nasty Canadian federal election.
d) All of the above and more...

On the first episode of Energy vs Climate Season Three David, Sara and Ed  are back after a summer of hell and high water to unpack what moved the dial on climate and energy while EvC was on hiatus. They also look at this week's climate and energy news and preview what's to come on this season of Energy vs Climate from geopolitics, to energy storage, health impacts, a just transition, and more.
---
EPISODE NOTES

@1:12 Sustainable Energy Development Masters Program at the University of Calgary
@3:30 Energy within Environmental Constraints - Harvard Massive Online Open Course
@6:37 Executives from Exxon, Shell, BP and others are being called to testify in Congress - The New York Times
@7:39 Merchants of Doubt by Naomi Oreskes and Erik M. Conway
@7:45 Drilled Podcast
@12:58 Harvard University pledges to divest from fossil fuels
David on Divestment: The Fossil Fuel Divestment Movement Can Succeed Where Politics Failed
@17:41 Cost of financing for coal
Coal financing costs surge as investors opt for renewable energy - The Guardian

@20:55
Chinese PV Industry Brief: Work begins on 3.3 GW solar-CSP project linked to 500 MW of storage, in Qinghai - PV Magazine
China pledges to stop building new coal energy plants abroad - BBC

@27:13 Heat Impacts
Extreme, deadly heat in Canada is going to come back, and worse. Will we be ready? - The Globe and Mail
Heat has larger impacts on labor in poorer areas (David is a co-author)
Relationship between season of birth, temperature exposure, and later life wellbeing

@35:25 2021 IPCC Report
@35:30 The Environmentalist's Dilemma: Promise and Peril in an Age of Climate Crisis by Arno Kopecky
@39:42 US EV sales data
Norway bans gas car sales in 2025, but trends point towards 100% EV sales as early as April - Electrek
Daimler stops developing internal combustion engines to focus on electric cars - Electrek
@50:49 Germany's energy consumption and power mix in charts

@53:16 Liberal's Clean Electricity Standard and Federal/Provincial jurisdiction
Lost in Transmission: A Constitutional Approach to Ending Canada's Energy Infrastructure Poverty - Kristen van de Biezenbos
---
About your co-hosts:
David Keith is a professor at Harvard in Engineering and the Kennedy School. He is the founder of Carbon Engineering and was formerly a professor at the University of Calgary. He splits his time between Canmore and Cambridge.
Sara Hastings-Simon studies energy transitions at the intersection of policy, business, and technology. She's a policy wonk, a physicist turned management consultant, and a professor at the University of Calgary where she is the Director of the Master of Science in Sustainable Energy Development.
Ed Whittingham is a clean energy policy/finance consultant, fellow at the Public Policy Forum, and a mentor with the Creative Destruction Lab. He is the former executive director of the Pembina Institute.
---