Is Heat the Greatest Climate Threat?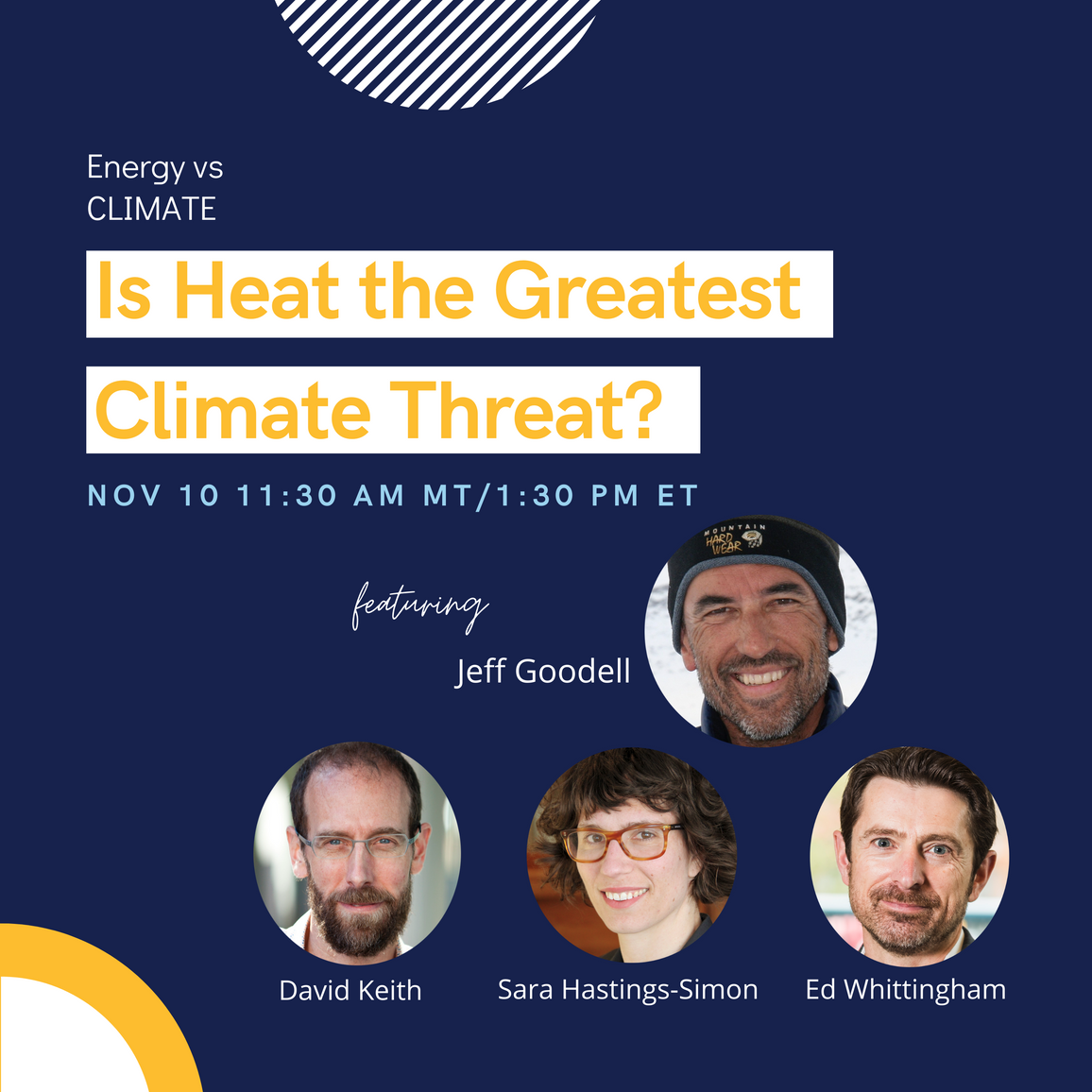 British Columbia's coroner says almost 600 people died in the heat wave this summer – despite Canada's universal healthcare system and generous social services. This, when global warming has not yet reached much over 1 degree centigrade. So what are the global consequences of high temperatures in a world with 1.5, 2, or 3 degrees of warming? On Episode 24 of Energy vs Climate, David, Sara and Ed are joined by Rolling Stone contributing editor and author Jeff Goodell, to discuss the impacts of heat on humans, the topic of Jeff's current book project. From heat-wave deaths, to reduced ability to learn, to the effect on economic input, who will suffer the most, and what does it mean for the politics of the energy transition?
---
EPISODE NOTES
@ 0:54 B.C. heat wave leads to 11-hour ambulance wait time, spike in sudden deaths
@ 1:07 The Ministry for the Future by Kim Stanley Robinson review – how to solve the climate crisis
@ 1:46 New York Times Review: The Water will come: Rising Seas, sinking cities and the remaking of the civilized world
@ 2:53 Mortality risk attributable to high and low ambient temperature: a multicountry observational study
@5:21 One extra day > 32C in first trimester --> 50$ less income at age 30.
@5:59 Global non-linear effect of temperature on economic production
@6:24 Hot Temperature and High Stakes Exams: Evidence from New York City Public Schools
@ 15:05 Global heating 'may lead to epidemic of kidney disease'
@ 15:51Death toll exceeded 70,000 in Europe during the summer of 2003
@ 17:03 The 2021 report of the Lancet Countdown on health and climate change: code red for a healthy future
@ 18:32 At COP26, 100000 march for climate justice
@19:49 Mortality during the catastrophic 2021 heat dome, Who died in BC's heat dome?
@ 20:54 Sebastian Perez Did Not Have to Die
@ 24:51 OSHA - Heat Injury and Illness Prevention in Outdoor and Indoor Work Settings Rulemaking
@27:53 The health costs of climate change from the Canadian Institute for Climate Choices
@36:10 United Nations COP16 Cancun Agreements
@58:11 COP Emission pledges may limit global heating to below 2C
@ 58:53 Reframing incentives for climate policy action – Oil Producers don't benefit from 'free-riding'
---
About your co-hosts:
Jeff Goodell's most recent book, The Water Will Come: Rising Seas, Sinking Cities, and the Remaking of the Civilized World, was a New York Times Critics Top Book of 2017. He is the author of five previous books, including Big Coal: The Dirty Secret Behind America's Energy Future. He is a Contributing Editor at Rolling Stone, where he has covered climate change for more than a decade.
David Keith is a professor at Harvard in Engineering and the Kennedy School. He is the founder of Carbon Engineering and was formerly a professor at the University of Calgary. He splits his time between Canmore and Cambridge.
Sara Hastings-Simon studies energy transitions at the intersection of policy, business, and technology. She's a policy wonk, a physicist turned management consultant, and a professor at the University of Calgary and Director of the Master of Science in Sustainable Energy Development.
Ed Whittingham is a clean energy policy/finance consultant, fellow at the Public Policy Forum and a mentor with the Creative Destruction Lab. He is the former executive director of the Pembina Institute.