Net Zero Corporate Commitments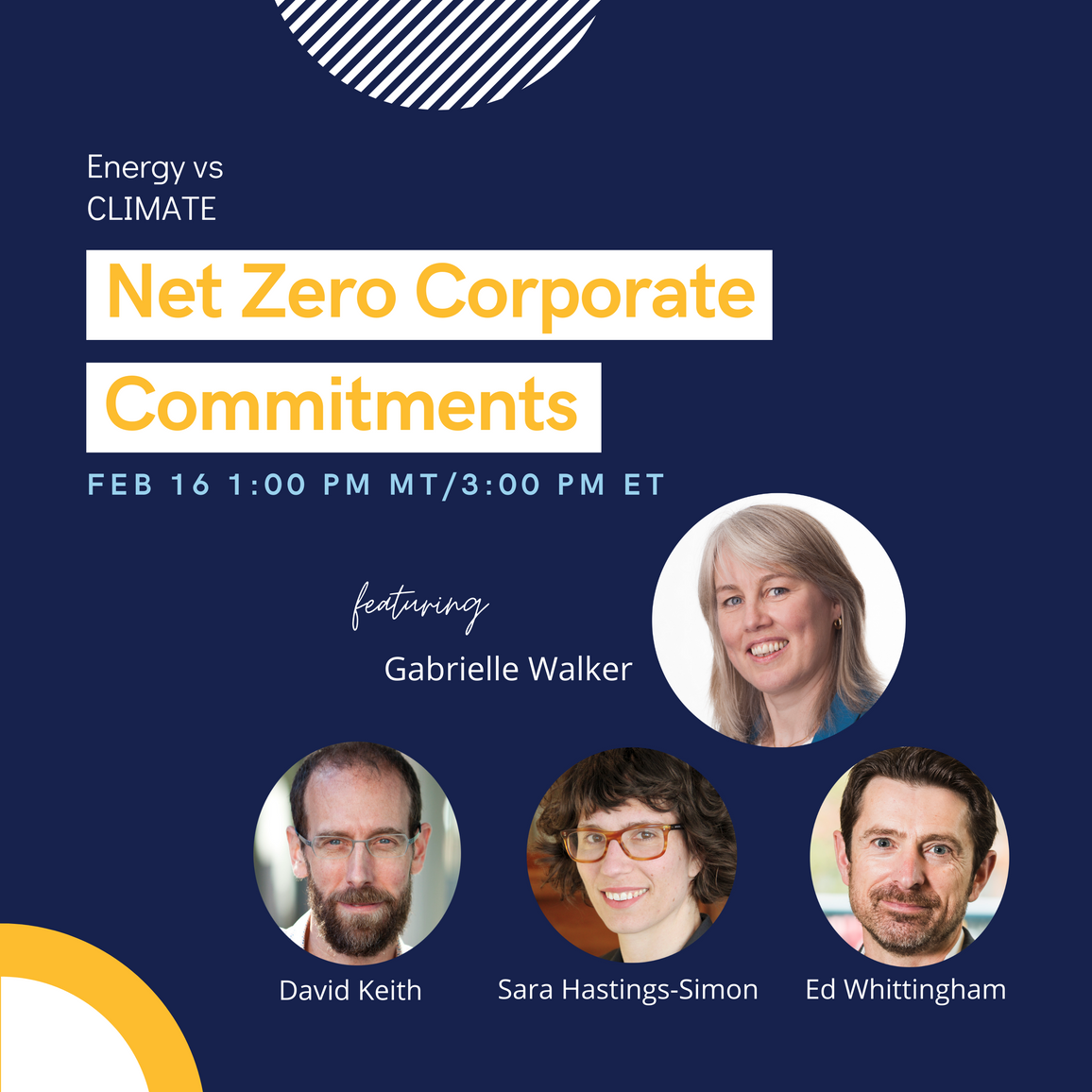 In the past year the number of companies committing to net zero greenhouse gas emissions by 2050 has exploded. With the fifty largest companies by value accounting for 28% of global GDP, corporate action is critically important if we are to avoid dangerous climate change. But what does a net zero commitment for a company mean in practice? What distinguishes the good from greenwashing, and can we even tell from the outside? What are the risks and opportunities for a company making a net zero commitment in the first place?
David, Sara, Ed, and special guest Dr. Gabrielle Walker, Founder and Director of Valence Solutions,  journey to net zero on Episode 28 of Energy vs Climate.
---
EPISODE NOTES
@1:10 Dr. Gabrielle Walker, @GabrielleWalk3r
@4:20 Offshore wind farms could double as electric charging…
@6:20 BMW Group significantly increases use of low-carbon steel
@6:39 Fact Sheet: Biden-Harris Administration Advances Cleaner Industrial Sector
@7:00 Biden launches 'Buy Clean' task force to boost greener manufacturing
@7:11 EU set to race ahead of UK in green steel production
@8:03 Volvo's Dump Truck Takes Shape From World's First Green Steel - Bloomberg, Mercedez-Benz to use low-carbon steel
@16:11 Microsoft announces it will be carbon negative by 2030 - Stories
@16:27 Race To Zero Campaign | UNFCCC
@28:00 Energy Transitions Commission | Achieving net-zero emissions by 2050
@31:02 Carbon Emissions Factor Into Major Oil Sands Shakeup | Climate Central
@33:00 IEA says ending new oil and gas exploration today is the only viable climate path
@37:16 Fuels: old and new – World Energy Outlook 2021 – Analysis - IEA
@38:01 BP's Strategic Shift To Renewables
@41:44 Europe Carbon Border Adjustment Mechanism
@44:20 Gabrielle Walker | Speaker | TED
@45:27 The Fossil Fuel Non-Proliferation Treaty
---
About your co-hosts:
Gabrielle Walker, Founder and Director of Valence Solutions, is an expert strategist, speaker and moderator focused on unleashing capitalism on climate change. She works with global companies at boardroom-level, analysing emerging trends, challenging conventional thinking and driving meaningful action. Through its partnership with the UNFCCC High Level Champions for Climate Action, Valence Solutions participated in many COP26 events in Glasgow.
Gabrielle gives keynote addresses to corporate audiences around the world and is an accomplished moderator of high-level debates. She has presented many BBC TV and radio programmes, given a TED Countdown talk, was Climate Change Editor at Nature and Features Editor at New Scientist, has written extensively for many international newspapers and magazines including the FT, the Wall Street Journal and the New York Times, and has authored four books. She earned her PhD at Cambridge University and has taught at both Cambridge and Princeton.  
David Keith is a professor at Harvard in Engineering and the Kennedy School. He is the founder of Carbon Engineering and was formerly a professor at the University of Calgary. He splits his time between Canmore and Cambridge.
Sara Hastings-Simon studies energy transitions at the intersection of policy, business, and technology. She's a policy wonk, a physicist turned management consultant, and a professor at the University of Calgary and Director of the Master of Science in Sustainable Energy Development.
Ed Whittingham is a clean energy policy/finance consultant, fellow at the Public Policy Forum and a mentor with the Creative Destruction Lab. He is the former executive director of the Pembina Institute.