Building for Sustainability - What Really Matters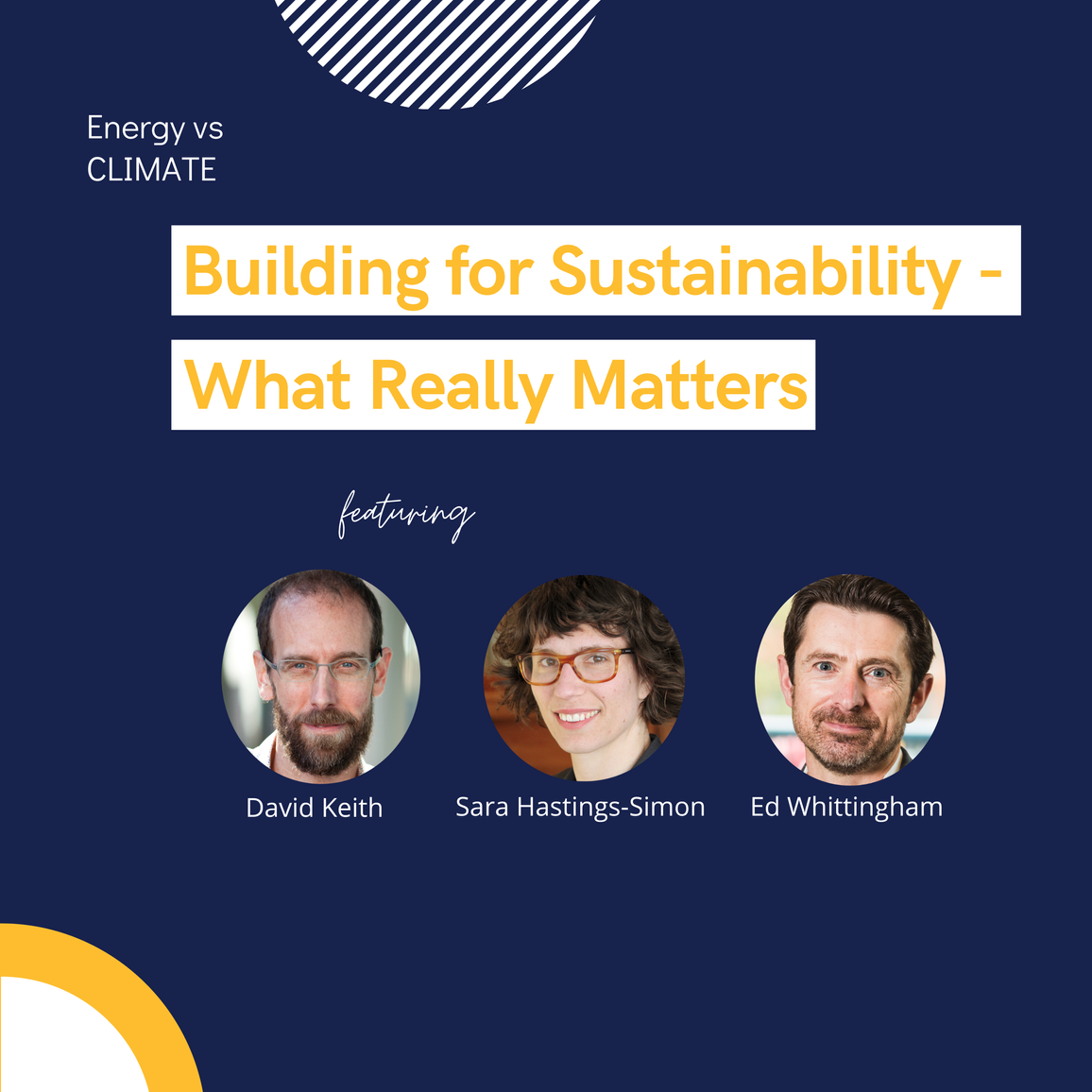 What matters - and really doesn't matter - when it comes to Building for Sustainability? David, Sara and Ed answer that question in a live episode of Energy vs Climate recorded on November 5, 2023 to kick off the Building for Sustainability symposium in Canmore, AB.
---
EPISODE NOTES
@00:3:30 Carbon sink and low-carbon building materials
@00:5:30 Keeping The Heat In - Section 8: Upgrading windows and exterior doors
@00:10:03 Spring Creek Mountain Village receives green energy certification
@00:11:48 Fact sheet: Early Estimate of National Emissions 2022
@00:15:21 Goodbye, gas furnaces? Why electrification is the future of home heating
@00:20:25 Recent Progress in Green Cement Technology Utilizing Low-Carbon Emission Fuels and Raw Materials: A Review
@00:24:00 Heat Pumps Pay Off: Unlocking lower-cost heating and cooling in Canada
@00:27:11 The green economy transition: the challenges of technological change for sustainability
@00:29:00 Tesla Energy Storage Business, Solar Roof Revenues: Heading in Opposite Directions?
@00:38:56 Incentive Programs
@00:39:50 Banff launches the first municipal solar feed-in tariff in Canada
@00:40:34 The Solar Club™
@00:42:49 CANMORELAND
@00:44:24 An Overview of Natural Gas Bans in the U.S.
---
About your co-hosts:
David Keith is Professor and Founding Faculty Director, Climate Systems Engineering Initiative at the University of Chicago. He is the founder of Carbon Engineering and was formerly a professor at Harvard University and the University of Calgary. He splits his time between Canmore and Chicago.
Sara Hastings-Simon studies energy transitions at the intersection of policy, business, and technology. She's a policy wonk, a physicist turned management consultant, and a professor at the University of Calgary and Director of the Master of Science in Sustainable Energy Development.
Ed Whittingham is a clean energy policy/finance consultant, fellow at the Public Policy Forum and a mentor with the Creative Destruction Lab. He is the former executive director of the Pembina Institute.‌