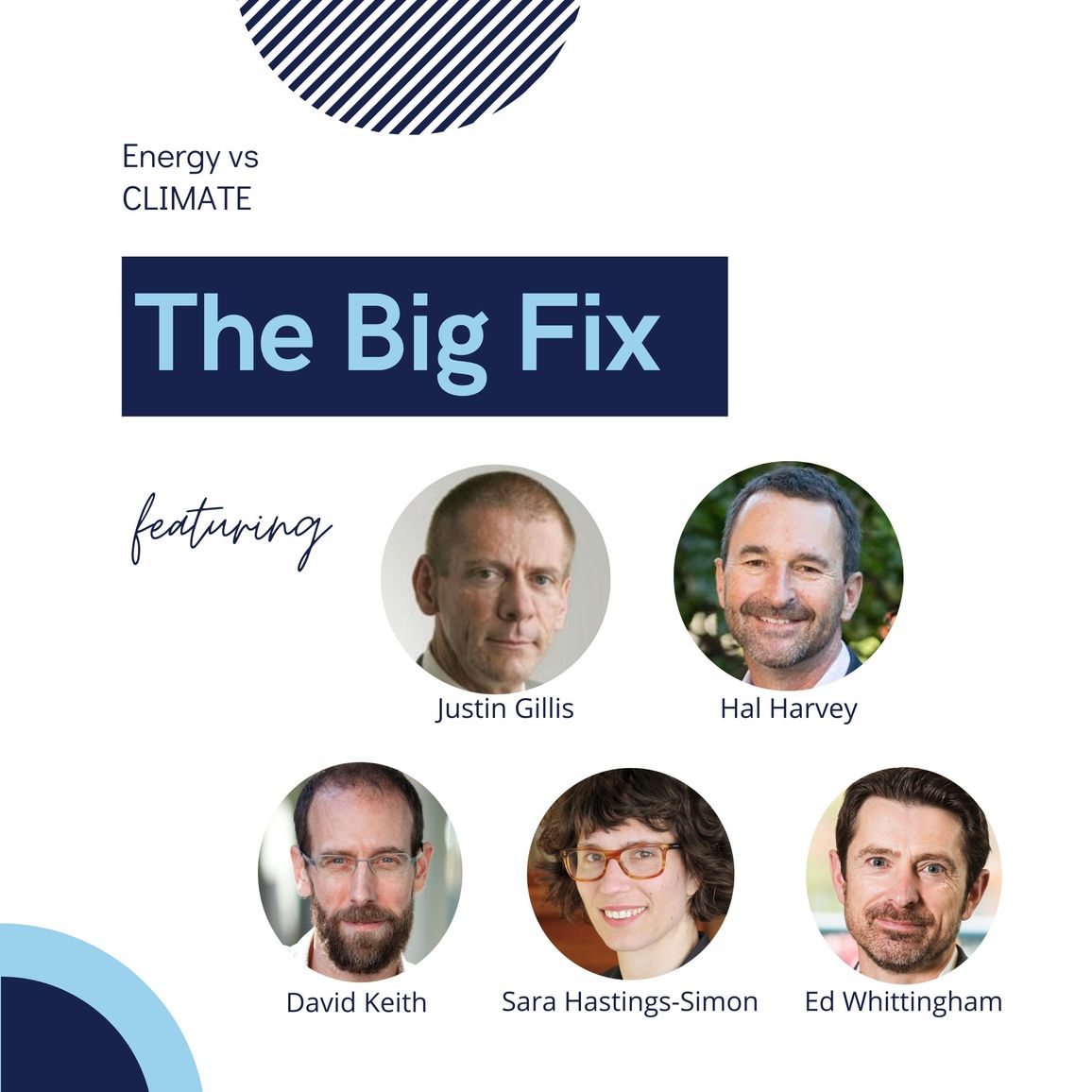 Welcome back to Season Four of Energy vs Climate! We kick off this season with a special episode, focused on a new book by acclaimed energy policy advisor, Hal Harvey, and award-winning New York times reporter Justin Gillis. The Big Fix: Seven Practical Steps to Save our Planet is out today, September 20th. The book looks at seven areas where communities and individuals can insert themselves into key political decisions to ensure the most climate conscious choices are being made.
In the interest of squeezing both Hal and Justin into the show, Sara, David, and Ed took a divide and conquer approach. First, you'll hear Sara and Ed's chat with Hal, about the arguments made in The Big Fix. After that you'll hear from David and Justin as they dive into the concept of technology learning curves.
We had fun trying out a bit of a different format and we hope you enjoy it too. We always love your feedback so please shoot us a note to info@energyversusclimate.com.
---
EPISODE NOTES‌
@0:33 The Big Fix: Seven Practical Steps to Save Our Planet
@3:23 Energy Innovation: Policy and Technology, Energy Foundation, Energy Foundation China,  European Climate Foundation, ClimateWorks
@10:00 The Inflation Reduction Act
@15:30 Alberta Utilities Commission
@21:45 California's Title 24
@24:05 Norwegian EV policy - Norsk elbilforening
@27:15 California Gov. bans sale of gasoline-powered cars by 2035
@42:15 Moore's Law vs. Wright's Law (forbes.com)
@55:02 Jigar Shah | Department of Energy
---
About your co-hosts:
Hal Harvey is the chief executive of Energy Innovation, a nonpartisan climate policy firm delivering research and analysis to help policymakers make informed choices, as well as a senior fellow for energy and the environment at the Paulson Institute, an independent think tank. The recipient of the UN Climate and Clean Air Award, the Heinz Award for the Environment, and the State of California's Haagen-Smit Clean Air Award, Harvey has been appointed to national and international climate panels by Presidents Bill Clinton and George H.W. Bush. An engineer by training, he received his bachelor's and master's degrees from Stanford University.
Justin Gillis is an award-winning journalist with four decades of experience explaining complex issues in simple language for major daily newspapers, including The New York Times, The Washington Post, and The Miami Herald. As the lead reporter on climate science at The Times for nearly a decade, he won the John B. Oakes Award for Distinguished Environmental Journalism for a series of front-page articles exploring the basics of the climate crisis. A graduate of the University of Georgia, he is currently a fellow at the Harvard University Center for the Environment.
David Keith is a professor at Harvard in Engineering and the Kennedy School. He is the founder of Carbon Engineering and was formerly a professor at the University of Calgary. He splits his time between Canmore and Cambridge.
Sara Hastings-Simon studies energy transitions at the intersection of policy, business, and technology. She's a policy wonk, a physicist turned management consultant, and a professor at the University of Calgary and Director of the Master of Science in Sustainable Energy Development.
Ed Whittingham is a clean energy policy/finance consultant, fellow at the Public Policy Forum and a mentor with the Creative Destruction Lab. He is the former executive director of the Pembina Institute.‌