Energy vs IEA Oil and Gas Scenarios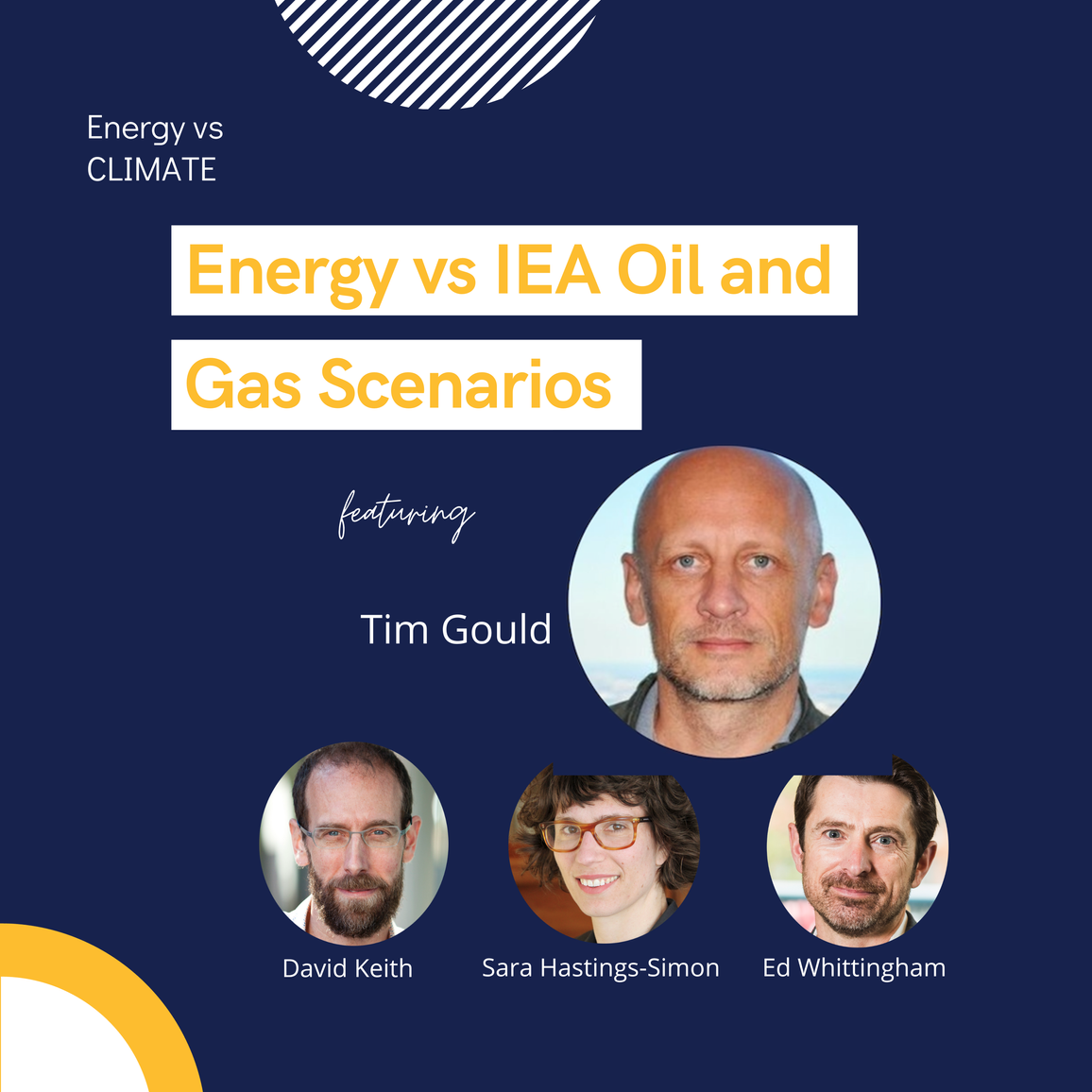 Published each year, the International Energy Agency's (IEA) World Energy Outlook (WEO) is a leading source of scenario-based analysis of global energy demand and supply. This year, as the global energy crisis shows signs of calming, the WEO finds a peak in fossil fuels before 2030 across all scenarios. The result has been met with skepticism by some politicians in Canada, with Alberta's Premier Danielle Smith going so far as to question the credibility of the organization.
A follow-on special report from the IEA on the oil and gas industry in net zero transitions, scheduled for release on November 23, will offer additional insights on the role of oil and gas producers in achieving a decarbonized global energy sector.
David, Sara, Ed, and the International Energy Agency's Chief Energy Economist, Tim Gould discuss the findings of these IEA reports and the implications for Canada and its natural resources on Season 5, Episode 6 of Energy vs Climate.
---
About your co-hosts:
Tim Gould was appointed the Agency's Chief Energy Economist in 2021. As Chief Energy Economist, he provides strategic advice on energy economics across a wide range of IEA activities and analysis. Mr Gould joined the IEA in 2008, initially as a specialist on Russian and Caspian energy, and in recent years has designed and directed the World Energy Outlook together with the IEA's Chief Energy Modeller while contributing to the Outlook as a principal author. Prior to joining the IEA, Mr Gould was Senior Advisor to the Secretary General of the Energy Charter and has ten years of experience in Eastern Europe, primarily in Ukraine. He graduated from Oxford University and has a post-graduate diploma from the School of Advanced International Studies of Johns Hopkins University.
David Keith is Professor and Founding Faculty Director, Climate Systems Engineering Initiative at the University of Chicago. He is the founder of Carbon Engineering and was formerly a professor at Harvard University and the University of Calgary. He splits his time between Canmore and Chicago.
Sara Hastings-Simon studies energy transitions at the intersection of policy, business, and technology. She's a policy wonk, a physicist turned management consultant, and a professor at the University of Calgary and Director of the Master of Science in Sustainable Energy Development.
Ed Whittingham is a clean energy policy/finance consultant, fellow at the Public Policy Forum and a mentor with the Creative Destruction Lab. He is the former executive director of the Pembina Institute.‌