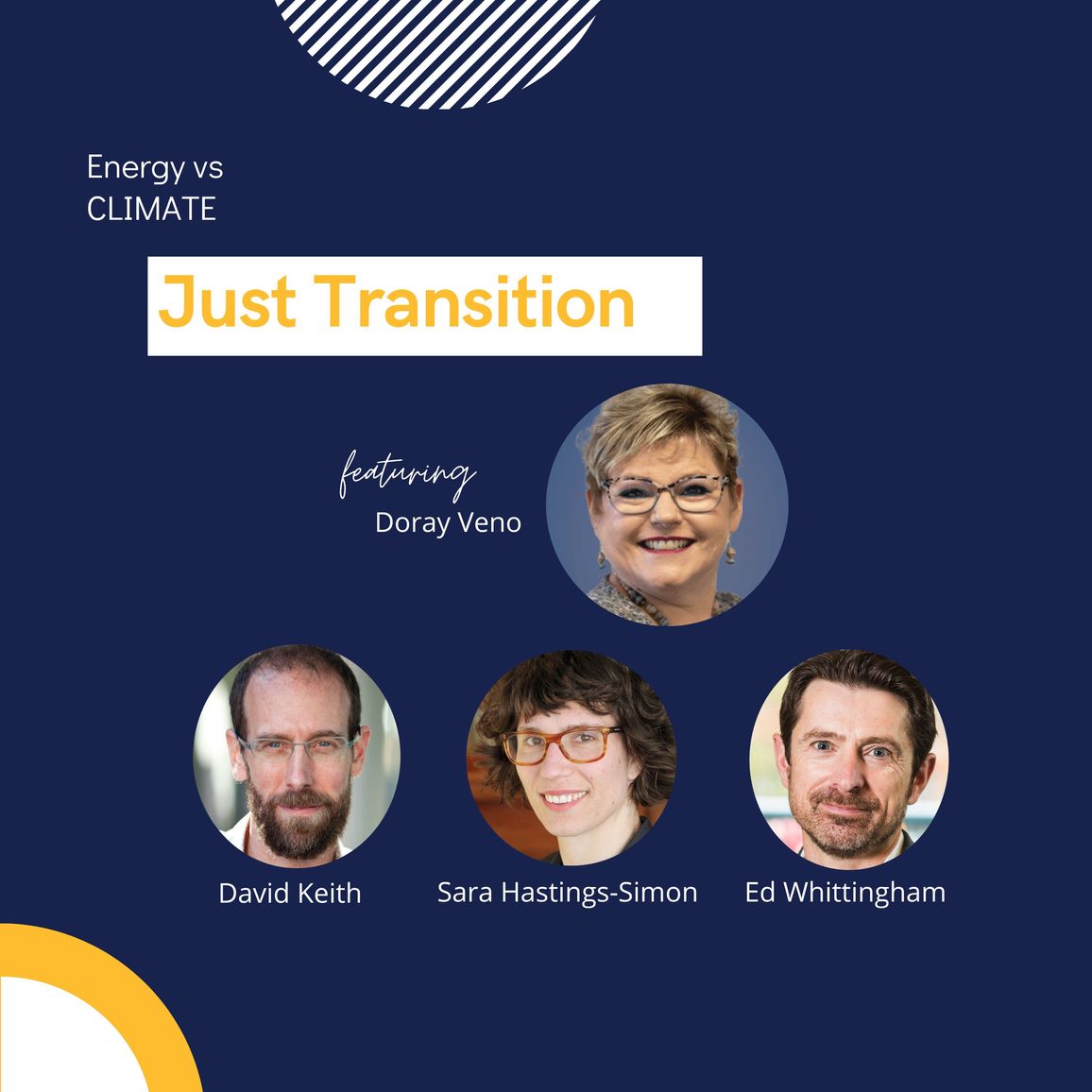 "Just Transition" is making headlines again in Alberta with the Provincial government pushing back against the yet to be tabled just transition legislation the Federal government first promised in 2019. Part of the debate is political, but underneath the strategy to fight back against Ottawa is the reality of the energy transition and the impact it will have on Alberta communities.
How do we separate the politics from the policies when it comes to transition? What can we learn from coal communities that have already started to undergo similar transitions? What have policy makers gotten right in previous transition supports and where did they miss the mark? And what does this mean for the Provincial and Federal governments facing economic transition on an even larger scale in the province of Alberta?
Dig in with David, Sara, Ed, and Doray Veno, Executive Director of Lynks - Harvest Sky Services and Supports Society (formerly the Hanna Learning Centre) on Season 4 Episode 7 of Energy vs Climate.
---
EPISODE NOTES:
@1:13 Government of Canada Sustainable Job Plans
@1:51 Why Alberta dislikes the term 'Just transition'. The latest tension between Alberta and the Federal Government.
@3:40 Alberta coal phase-out and impacts on the Town of Hanna
@4:30 "Hanna offers a clear example of how climate-change policies can impact a community in unexpected ways."
@8:00 Alberta government announces grant to help Hanna amid coal phase-out
@10:47 Fear of the Unknown: Coal Community Hanna still waiting for a phase-out plans
@13:00  Solar project announced for Hanna
@20:26 'Just Transition' must serve people, communities and companies
@28:03 Hanna seeing a rise in more entrepreneurship
@41:58  How can we transition to more sustainable industries in Canada, support workers and develop resilient communities?
@50:23 Government of Canada – the dishonesty surrounding the consequences of Just Transition trade offs
@51:03 Canada needs its own bold industrial strategy – the US cannot keep carrying us.
@51:47 IRA: Biden's climate agenda has a problem: Not enough workers
@51:48 The Human Cost of Climate Policy: A Call to the United States and Canada to Move in Lockstep on Labour Strategy
---
About your co-hosts:
Doray Veno is the Executive Director of Lynks-Harvest Sky Services and Supports Society; formerly, Hanna Learning Centre in Hanna, Alberta. Doray plays a regional convening role in citizen engagement, organizational development, and community capacity building. Her involvement with the local Climate Change Strategy Taskforce began in late 2015 after the provincial government announced the Climate Leadership Plan. Bringing a social services lens to all conversations with industry, government, and community has been Doray's priority during the transition away from coal in Hanna. She holds a Bachelors of Arts in Recreation Administration Community Development from the University of Alberta .
David Keith is a professor at Harvard in Engineering and the Kennedy School. He is the founder of Carbon Engineering and was formerly a professor at the University of Calgary. He splits his time between Canmore and Cambridge.
Sara Hastings-Simon studies energy transitions at the intersection of policy, business, and technology. She's a policy wonk, a physicist turned management consultant, and a professor at the University of Calgary and Director of the Master of Science in Sustainable Energy Development.
Ed Whittingham is a clean energy policy/finance consultant, fellow at the Public Policy Forum and a mentor with the Creative Destruction Lab. He is the former executive director of the Pembina Institute.‌