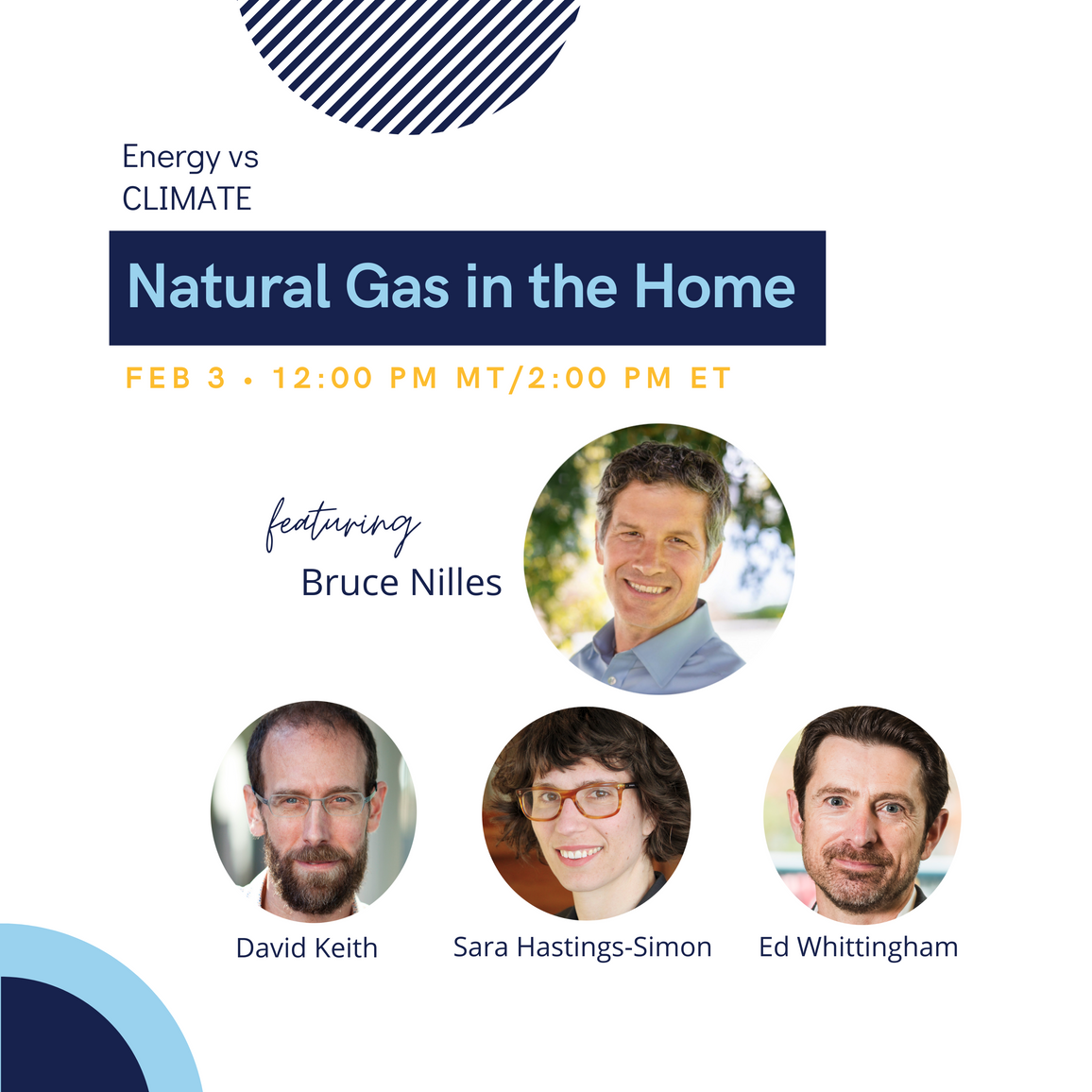 The debate on the future of natural gas is heating up. A growing number of cities are adopting bans on using the fuel in the home, while states are taking action to ban the bans.
On Episode 27 of Energy vs Climate, Bruce Nilles, Executive Director of Climate Imperative and founder of the Sierra Club's Beyond Coal Campaign, joins David, Sara, and Ed to explain why he's set his sights on natural gas. From gas stoves to hot water heaters and furnaces, Bruce helps us break down what electrifying these aspects of the home might look like in Alberta and Canada more broadly.
---
EPISODE NOTES
@2:10 ecoENERGY for Renewable Power
@2:14 AB Emissions reduction programs
@2:37 Sierra Club Beyond Coal campaign
@3:39 Climate Imperative, @brucenilles
@5:07 – Erin O'Toole out | National Post
@5:47 – Meat Consumption Pacing Up Climate Change?
@16:23 – Residential Indoor Air Quality Guideline, Human Health Risk Assessment for Ambient Nitrogen Dioxide
@18:56 – Study: Pollutant Exposures from Natural Gas Cooking Burners
@20:48 – NO2 exposure shows causal link with Asthma
Scientists find the climate and health impacts of natural gas stoves are greater than previously thought
@28:18 - Effective Kitchen Ventilation for Healthy Zero Net Energy Homes with Natural Gas
@32:26 – Berkeley gas hook-up ban appears likely to spread to other California cities
@32:13 – America's Natural Gas Utilities Add One New Customer Every Minute
@33:33– California first state to phase out gas-powered lawn equipment , New York City banning natural gas hookups for new buildings
@34:30 – DECC_Heat_Pumps_in_District_Heating_-_Final_report.pdf (publishing.service.gov.uk)
@34:31 – Cold Climate Heat Pumps
The Electrification and Deep Retrofit Potential of Canadian Federal Buildings - RMI
---
About your co-hosts:
Bruce Nilles is Executive Director of Climate Imperative. For the two years prior, Bruce was Managing Director at Rocky Mountain Institute focused on accelerating building electrification. Before that he spent 15 years building and leading the Sierra Club's Beyond Coal Campaign, a nationwide effort to replace coal plants with clean energy. He holds undergraduate and law degrees from the University of Wisconsin in Madison and spent the first four years of his career at the U.S. Department of Justice's Environment and Natural Resources Division. He is the 2018 recipient of the Packard Foundation Climate Breakthrough Award and was recognized by Politico in 2015 as "one of the thinkers, doers, and visionaries transforming American politics." Bruce holds undergraduate and law degrees from the University of Wisconsin in Madison.
David Keith is a professor at Harvard in Engineering and the Kennedy School. He is the founder of Carbon Engineering and was formerly a professor at the University of Calgary. He splits his time between Canmore and Cambridge.
Sara Hastings-Simon studies energy transitions at the intersection of policy, business, and technology. She's a policy wonk, a physicist turned management consultant, and a professor at the University of Calgary and Director of the Master of Science in Sustainable Energy Development.
Ed Whittingham is a clean energy policy/finance consultant, fellow at the Public Policy Forum and a mentor with the Creative Destruction Lab. He is the former executive director of the Pembina Institute.