Can Industrial Policy Solve the Climate Crisis?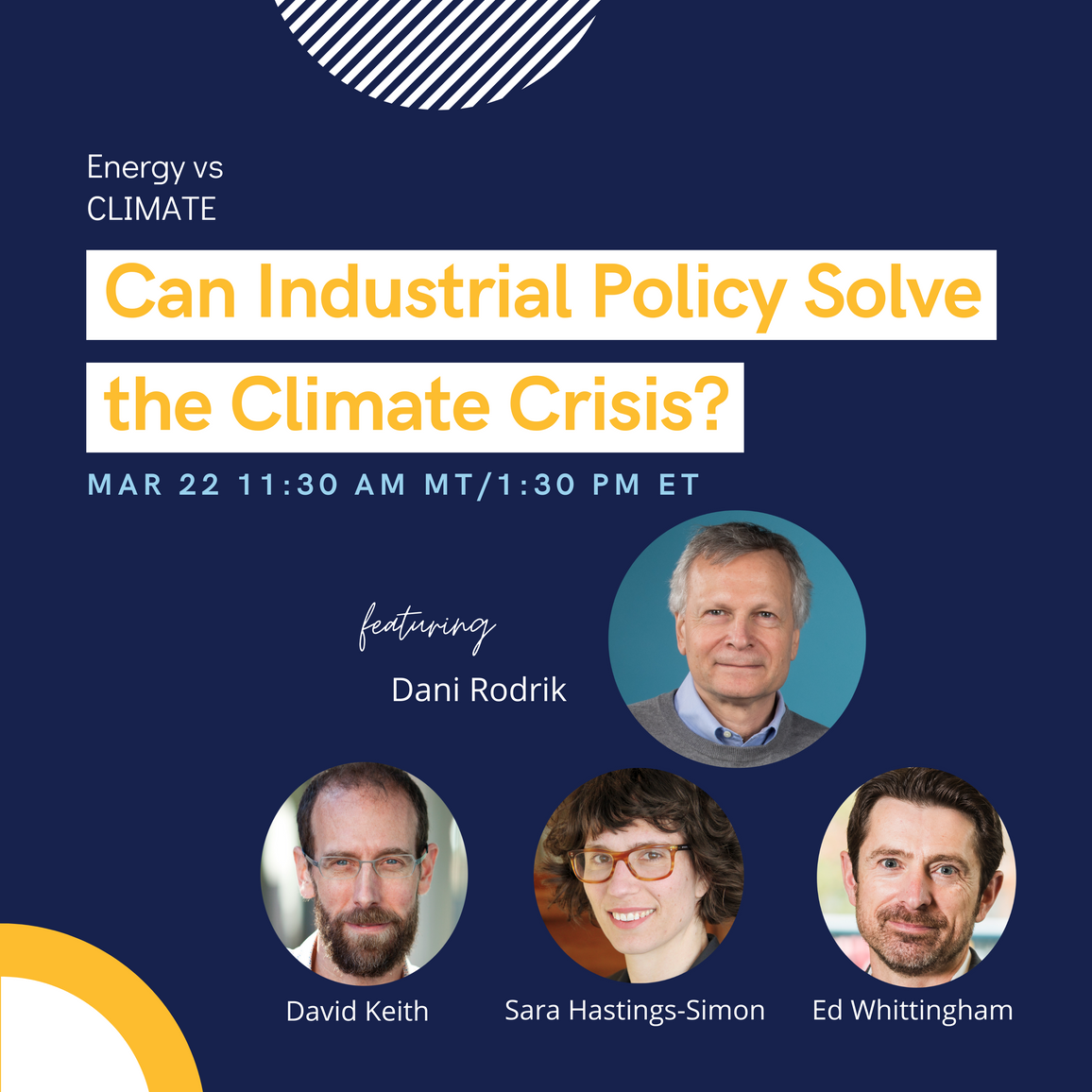 Industrial policy is hot again, back with a new name (mission innovation) and a new target (climate change). Detractors point to past failures and the risk of costly mistakes and argue that governments should avoid picking winners and stick to carbon pricing. Is government-directed innovation a good tool for climate innovation? How can governments do it well? What should they avoid? And what lessons are there for Canada's energy transition?
David, Sara, Ed, and industrial policy expert Dani Rodrik of Harvard University discuss government-directed innovation as a tool for decarbonization on Episode 30 of Energy vs Climate.
---
EPISODE NOTES

@3:15 Dani Rodrik (harvard.edu) , President of the International Economic Association, and co-director of Economics for Inclusive Prosperity. Populism and the economics of globalization

@4:00 Combating Inequality: Rethinking Government's Role

@4:34 NDP won't oppose higher defence spending in exchange for billions on social programs

@6:32 A 10-Point Plan to Cut Oil Use – Analysis - IEA

@6:41 Nikos Tsafos thread about EU country commitments to fast track energy transition.

@7:40 In a World on Fire, Stop Burning Things | The New Yorker and The End of Nature, by Bill McKibben

@10:21 Japan discussing Russian oil import ban with U.S. and Europe

@16:36 Energy vs Climate: How Solar Became Cheap

@20:20 Defense Advanced Research Projects Agency

@25:29 Remembering "Solyndra" – How Many $570M Green Energy Failures

@26:27 TESLA | Department of Energy

@31:00 AOSTRA - Oil Sands - Alberta's Energy Heritage

@33:44 Tariffs on Chinese solar panels may hurt Canadian renewables industry - The Globe and Mail

@35:00 Clean Fuel Standard - Canada.ca

@35:23 California Air Resources Board

@40:10 Canada's Future in a Net Zero World - Transition Accelerator

@48:14 Small Business Microloan Program
---
About your co-hosts:
Dani Rodrik is an economist whose research revolves around globalization, economic growth and development, and political economy. His current work focuses on how to create more inclusive economies, in developed and developing societies. He is the Ford Foundation Professor of International Political Economy at Harvard's John F. Kennedy School of Government. He is currently President of the International Economic Association, and co-director of Economics for Inclusive Prosperity. His newest books are Combating Inequality: Rethinking Government's Role (2021, edited with Olivier Blanchard) and Straight Talk on Trade: Ideas for a Sane World Economy (2017).
David Keith is a professor at Harvard in Engineering and the Kennedy School. He is the founder of Carbon Engineering and was formerly a professor at the University of Calgary. He splits his time between Canmore and Cambridge.
Sara Hastings-Simon studies energy transitions at the intersection of policy, business, and technology. She's a policy wonk, a physicist turned management consultant, and a professor at the University of Calgary and Director of the Master of Science in Sustainable Energy Development.
Ed Whittingham is a clean energy policy/finance consultant, fellow at the Public Policy Forum and a mentor with the Creative Destruction Lab. He is the former executive director of the Pembina Institute.