Solar Geoengineering - should we go there?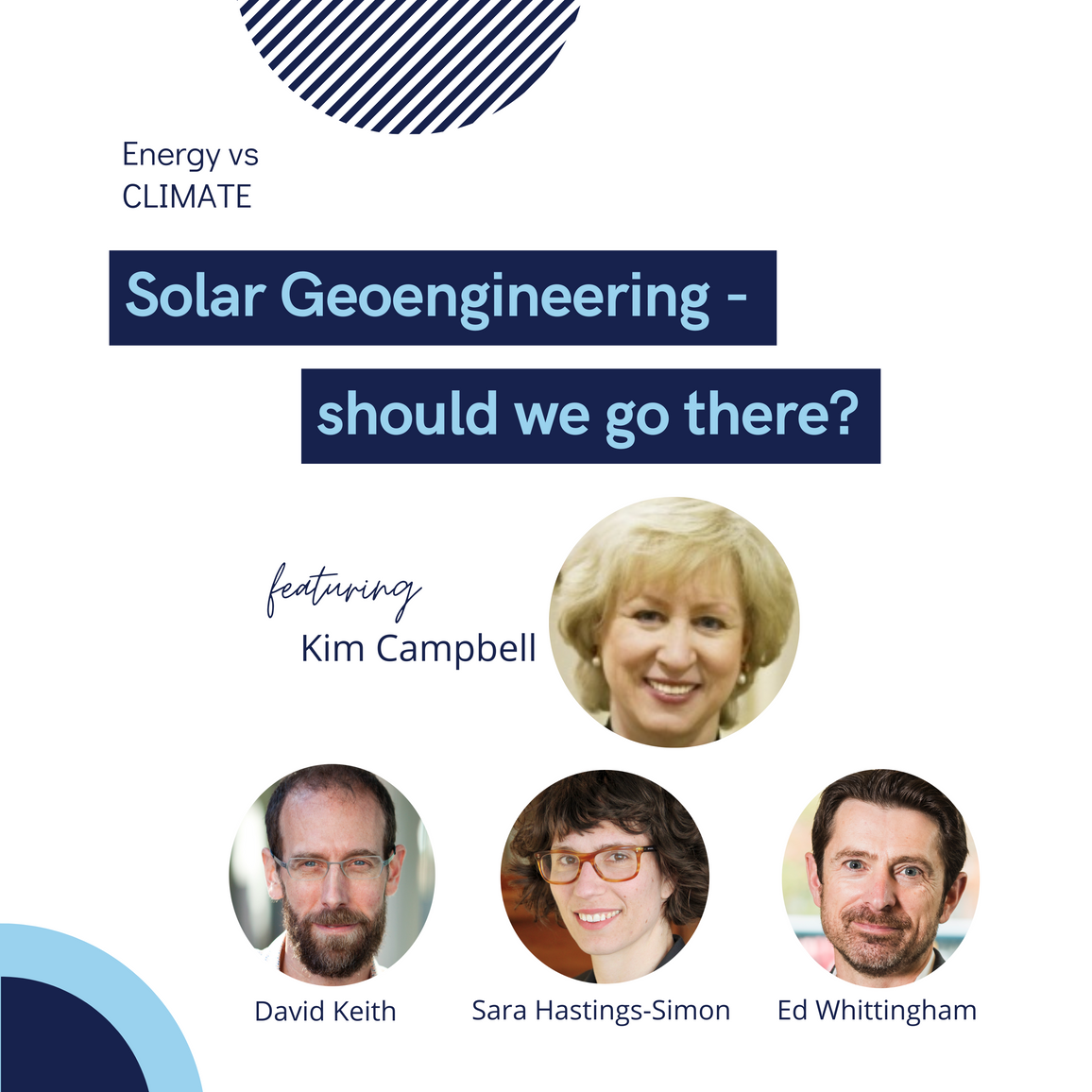 Or at least research it further?
The terms solar geoengineering, climate engineering, and solar radiation management, all refer to a set of highly controversial approaches proposed to directly manage the impacts of rising greenhouse gases in the atmosphere – for example, by adding tiny sulfuric acid droplets to the stratosphere or spraying sea salt into the air to reflect more of the sun's rays back into space.
The current state of the debate centers around the case for further research on the topic - proponents argue for the value of building knowledge, while detractors cite environmental, social, and geopolitical risks of moving forward. Listeners may have heard our own David Keith's starring turn on The Nature of Things debating this very topic with David Suzuki.
On the final episode of Energy vs Climate Season 4, we're covering the basics of solar geoengineering. We're joined by The Right Honourable Kim Campbell, former Prime Minister of Canada, to unpack the debate over the role of further research, the place of these technologies in the global climate toolkit, and the role for Canada in research and governance.
---
EPISODE NOTES
@1:36 Right Honourable Kim Campbell, Canada's 19th and first female Prime Minister
@2:56 Solar geo-engineering resources
@2:56 David vs. David on solar geo-engineering, David Suzuki - the Nature of Things
@8:31 Toward a responsible solar geoengineering research program, David Keith
@11:15 Climate Overshoot Commission and what is climate overshoot?
@16:50 EvC and special guest Adrien Abécassis on COP27
@23:40 Solar geo-engineering International Non-Use Agreement
@25:00 "Godfather of AI' Geoffrey Hinton quits Google..."-The New York Times
@25:30 Alberta investing billions into CCUS
@29:37 Solar geo-engineering project in Sweden halted
@44:40 Why Smart People Can Be So Stupid – Robert J. Sternberg
@60:01 Termination shock from solar geo-engineering defined
---
About your co-hosts:
After holding elected office at all three levels of Canadian government, Kim Campbell served as Canada's nineteenth and first female Prime Minister in 1993. She was also the first woman to hold the Justice and Defence portfolios. She is a founding member of the Club de Madrid and of the Council of Women World Leaders (Chair Emerita). She was global President of the International Women's Forum. Trained as a Political Scientist (Soviet Specialist) and a lawyer, in 2014 Kim Campbell created the groundbreaking Peter Lougheed Leadership College at the University of Alberta, serving as its Founding Principal until 2018. In 2021, Ms. Campbell joined the board of the Glen Gould Foundation and the advisory board of The Vancouver Anti-Corruption Institute, a project of The International Centre for Criminal Law Reform and Criminal Justice Policy (ICCLR). Kim Campbell resides in Florence, Italy with her husband, Hershey Felder.
David Keith is Professor and Founding Faculty Director, Climate Systems Engineering Initiative at the University of Chicago. He is the founder of Carbon Engineering and was formerly a professor at Harvard University and the University of Calgary. He splits his time between Canmore and Chicago.
Sara Hastings-Simon studies energy transitions at the intersection of policy, business, and technology. She's a policy wonk, a physicist turned management consultant, and a professor at the University of Calgary and Director of the Master of Science in Sustainable Energy Development.
Ed Whittingham is a clean energy policy/finance consultant, fellow at the Public Policy Forum and a mentor with the Creative Destruction Lab. He is the former executive director of the Pembina Institute.‌