Can Contracts for Difference Keep Canada Competitive?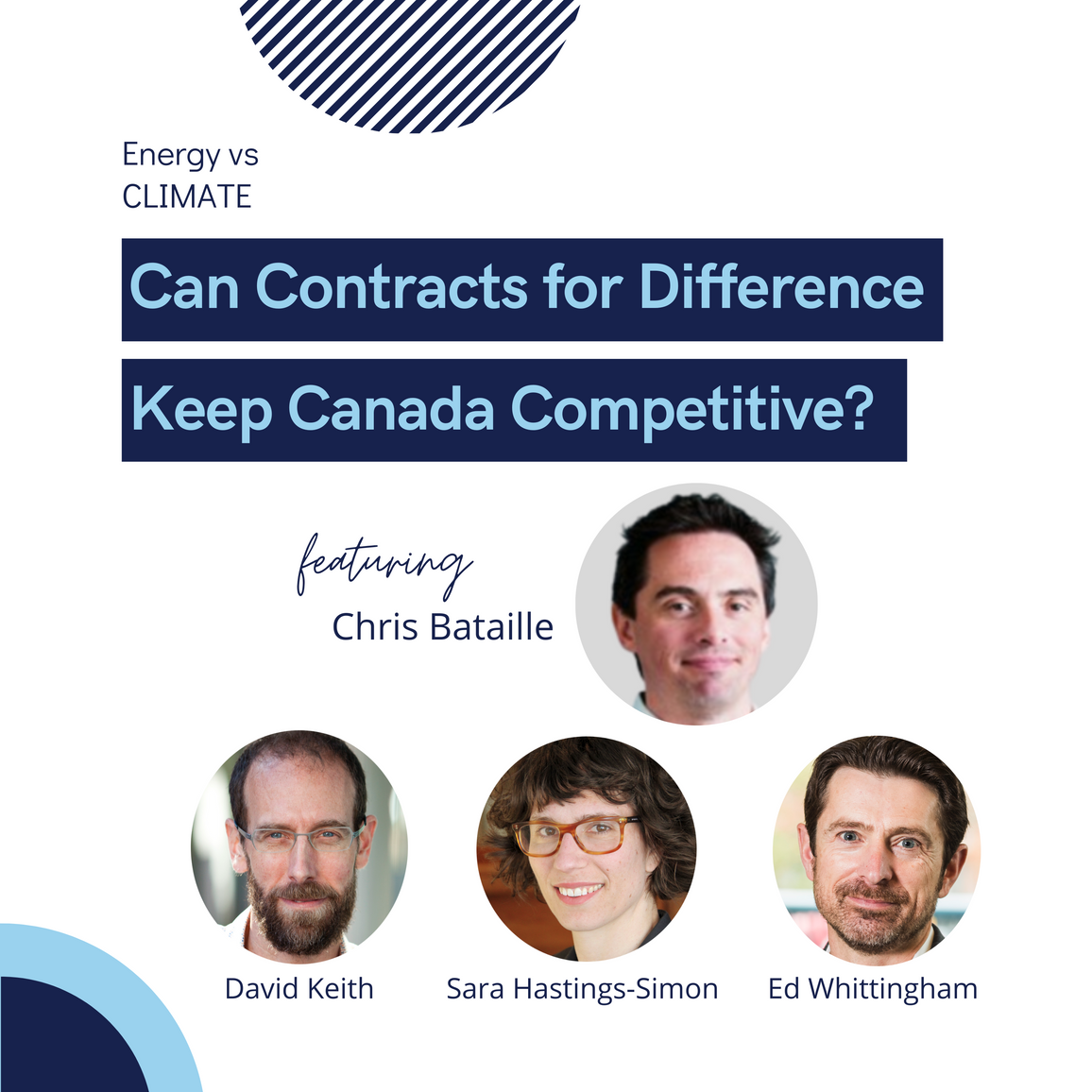 Another day, another big industrial decarbonization spending announcement from the U.S. – this time $6 billion for commercial demonstrations. Major announcements like that in Canada are few and far between. As we discussed back in Episode 3 last October, the U.S. Inflation Reduction Act's generous policy supports have the potential to hoover up the global decarbonization dollars looking for a safe and stable investment environment – at Canada's expense.
That FOMO has caused the Canadian federal government to commit to a "contract for difference" policy to bridge the competitiveness gap. So what is a contract for difference (aka 'CfD') and how can it help industrial decarbonization? What problems are CfDs designed to address? Where have CfDs been used, and were they successful? And ultimately, will they work to keep Canada competitive with the U.S. in the no-holds-barred clean energy transition race?
On  Season 4 Episode 8 of Energy vs Climate David, Sara, and Ed are joined by special guest Dr. Chris Bataille, Adjunct Research Fellow at Columbia University's Center for Global Energy Policy (CGEP) and researcher with the Institut du Développement Durable et de Relations Internationales (IDDRI.org) to discuss contracts for difference policy.
---
EPISODE NOTES:
Dr. Chris Bataille, Adjunct Research Fellow at Columbia University Centre on Global Energy Policy.
@1:12 EvC season 4, Ep. 3: Inflation Reduction Act and impacts to Canada
@4:20 Contract for Difference (CfD) – Explained
@5:50 CfD in Alberta's electricity market, supporting renewables deployment by Sara Hastings-Simon
@6:52 CfD example in the UK electricity market, supporting renewables deployment
@10:22 The Climate Policy Certainty Gap and How to Fill It, by UCalgary School of Public Policy Dale Beugin and Blake Shaffer
@13:16 Canada's pancake stack of sticks and carrots: Output based pricing system, the Clean Fuel Standard, methane regs, oil and gas emissions cap, CCUS tax credit, Emissions Reduction Fund, and Clean Growth Program
@15:05 Canada vehicle emissions regulations on par with California
@15:45 EvC Season 3, Ep. 32: Rebecca Dell, ClimateWorks Foundation, on Decarbonizing cement
@19:42 Canadian subsidies can compete with the USA's Inflation Reduction Act
@29:28 EvC Season 2, Ep. 10: Sally Benson, Stanford University, on Carbon Capture
@40:04 Shell Quest carbon capture and storage project
@46:50 Dr. Emily Grubert on lowering emissions through process over carbon capture
@58:35 Canadian Budget 2023, CBC News highlights  
---
About your co-hosts:
Chris Bataille has been involved in energy and climate policy analysis for more than 20 years as a researcher, energy systems and economic modeller, analyst, writer, project manager, and executive. Chris is currently an Adjunct Research Fellow at Columbia University's Center for Global Energy Policy (CGEP), Associate Researcher at the Institute for Sustainable Development and International Relations in Paris, lead of the DDPP Heavy Industry Deep Decarbonization Project, and Adjunct Professor at Simon Fraser University. He was previously founding managing partner of Navius Research Inc., and executive director of MK Jaccard & Associates Inc.
David Keith is a professor at Harvard in Engineering and the Kennedy School. He is the founder of Carbon Engineering and was formerly a professor at the University of Calgary. He splits his time between Canmore and Cambridge.
Sara Hastings-Simon studies energy transitions at the intersection of policy, business, and technology. She's a policy wonk, a physicist turned management consultant, and a professor at the University of Calgary and Director of the Master of Science in Sustainable Energy Development.
Ed Whittingham is a clean energy policy / finance consultant, fellow at the Public Policy Forum and a mentor with the Creative Destruction Lab. He is the former executive director of the Pembina Institute.‌